Low cost, high speed, foreign language transcription services.
Assist specializes in providing English language transcripts from audio recordings of Japanese business meetings. We can also supply English and Japanese transcripts of meetings and interviews conducted in other languages. We supply transcripts more quickly and at lower cost than other services.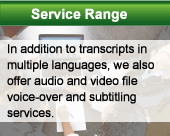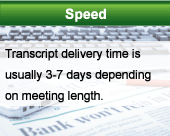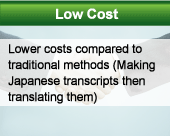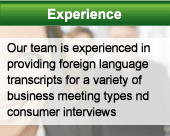 Traditional methods for making foreign language transcripts from Japanese are costly and time consuming.
"Assist Foreign Language Transcription Services" uses the internet and our global network to provide foreign language transcripts of Japanese meetings more quickly and at lower cost.
In addition to transcripts, we also provide voice-over and subtitling services for Japanese, English and other languages.



Get your transcripts delivered more quickly and at lower cost via the internet.
Delivery time is usually 3-7 days depending on meeting length.


Japanese language recordings to English transcripts
Japanese audio file
cost
Set-up fee
per project
¥20,000
Japanese audio -> English audio
per hour
¥50,000
English audio -> English Transcript
per hour
¥25,000
English audio -> English Transcript
per hour
¥5,000
Faster and less costly compared to making Japanese transcripts first then translating them to English!



We have experience working with clients in a wide range of industries, including those that require high quality output like Market Research.